How Eyebrow Shape Can Enhance Your Beauty & Transform Your Look
Most ladies we know are devoted to their brows. But why? Does our eyebrow shape really enhance beauty or have we just tricked ourselves into thinking there's a big difference?
We'll give you the short answer – eyebrow shape definitely enhances your natural beauty!
Eyebrows are like the perfect frame around a beautiful work of art (your face). Just look at this picture of Rihanna, before and after going for an eyebrow tint.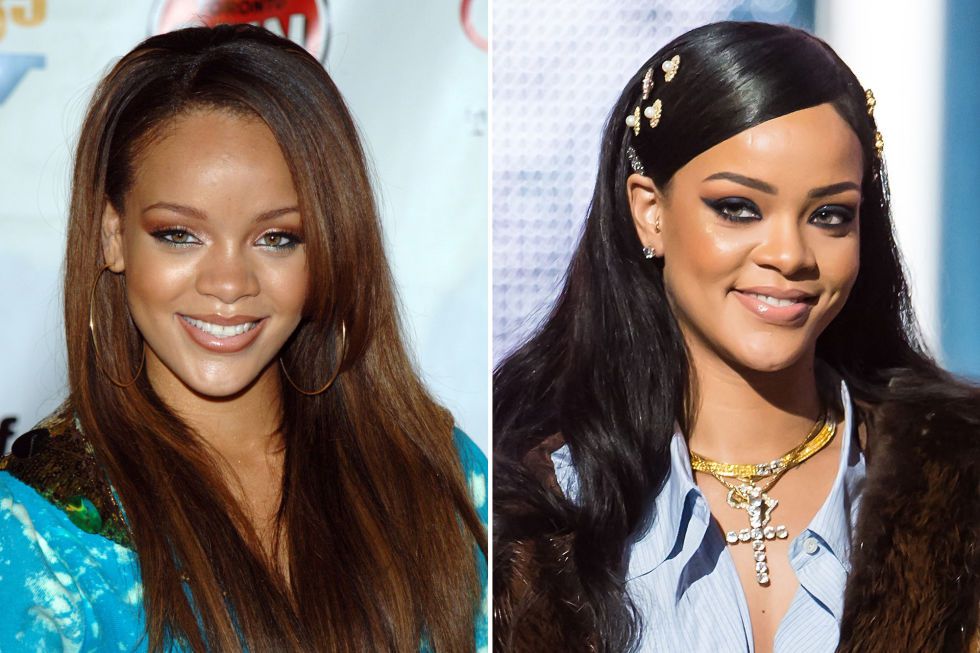 Damn girl! Look at that definition. Sure, the smoky eyes might have had something to do with the transformation, but the real dramatic difference here is made by the tinted eyebrows. So let's get into it, how exactly does eyebrow shape transform your look and enhance beauty?
1. Eyebrows express emotion
Let's not forget that the number one use for our eyebrows (besides keeping dirt and sweat out of our eyes) is to express emotion. If your eyebrow shaping is a little off, you could be giving off a look of bewilderment, worry, or anger (ever been told you've got resting bitch face? Could be the brows!)
Angry eyebrow shapes – If your eyebrows are lacking a tail (the part on the outer edges of the brow that narrows out), you could be left looking a little angry. This is a common problem with ladies who overplucked in the 70s and 90s (it was cool at the time, so we forgive you). How to fix? Go for eyebrow tinting only on the tail end of your brows to create definition and extend them out towards the edges of your eye. You'll see your mood lifted immediately!
Worried eyebrow shapes – Eyebrows a little too close together? We all know furrowed brows means worry, and the same look can be achieved by simply having eyebrows that sit a little too closely. You want your eyebrows to begin right above your eye's tear duct, and end at the angle of your nose and outer eye corners. The answer? Draw those diagonals and get plucking, babe. You'll look a whole lot more refreshed and relaxed!
Bewildered eyebrow shapes – Just like eyebrows that sit too close, eyebrows that are too far apart will make you look a little bewildered or surprised. In this case you'll want to either tint those inner parts of the eyebrow or draw them on. We may be bias here, but we reckon eyebrow tinting is always the more longer lasting and natural looking solution.
2. Good eyebrow shaping makes you look younger
Skip the facelift, ladies, and try out an eyebrow makeover instead! Having the right eyebrow shape for your face, with the perfect arch for your face shape, will give the appearance of a facelift and make your eyes pop.
The arch of the eyebrow is designed to frame your eyes and eyelids, and proper eyebrow shaping opens up the space to create lightness, youthfulness, and a great blank canvas for your eyeshadow and contouring trickery!
3. Good eyebrow shaping creates symmetry
When people talk about beauty, they're usually referring to symmetry. There's something about the perfect balance and harmony of a symmetrical face that just oozes beauty. When it comes to eyebrow shapes, symmetry is created by looking at your general face shape and shaping the eyebrows to balance certain angles and curves (or make them more pronounced!)
The basic rules for symmetrical eyebrow shaping are:
Round faces – Balance the curves with a slightly lifted arch,
Long faces – Balance the vertical length with a long tail,
Square faces – Ease those angles with softer, rounder shapes,
Heart-shaped faces – Go for curves to enhance your shape,
Oval faces – Balance the length with soft arches.
At Whiplash we're dedicated to great eyebrows. Our team of technicians is waiting to give your brows a total transformation, with eyebrow tinting, shaping, and waxing. Drop by our store in Sutherland Shire and talk to one of our technicians about how we can enhance your brows!